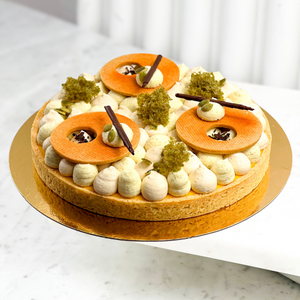 Our pumpkin-inspired dessert novelty is both sweet and spicy, the perfect treat for chillier days! Not only with its fragrance and colour, but also with its flavours, it will enchant pumpkin dessert lovers.
A soft pumpkin cream spiced with cinnamon and star anise is nestled in a short-crust pastry basket, topped with a sweet swirl of fresh ginger and quince white chocolate ganache. The cake is topped with a honey spiced sablé biscuit, crunchy pumpkin seeds and chocolate garnish.
Sweeten the festive moments with a Gerbeaud cake speciality!