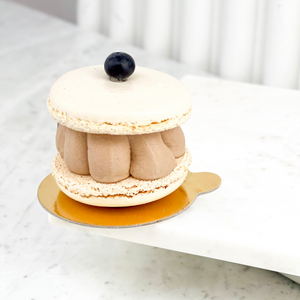 Our seasonal macaron dessert is an irresistible delicacy for chestnut lovers.
The almond flour macaron pastry layers are filled with a soft chocolate-cream chestnut ganache, with a pleasantly sour blueberry jelly at its heart. Then the dessert is crowned with fresh blueberry on top.
Enhance the sweet indulgence and also try our classic Chestnut purée or order the Gluten-free Favourites cake selection containing our gluten-free dessert novelties!
*Product made from gluten-free ingredients, but made in a plant manufacturing gluten and gluten-containing ingredients.