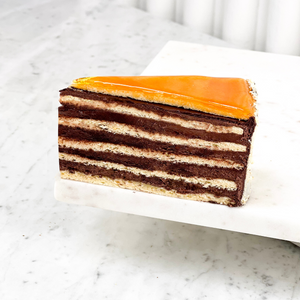 Our Dobos cake is made according to the original traditional recipe.
Between the layers of sponge cake, we put vanilla-flavoured homemade French chocolate cream. Of course, the top of the Dobos cake is not complete without the sweet and crunchy hard caramel topping that makes this cake iconic. Also available as a 14-slice whole cake!
Discover your classical favourites in the Gerbeaud Classic cake selection!
INGREDIENTS


egg, milk, flour, sugar, butter, natural vanilla flavour, cocoa powder, chocolate, caramel