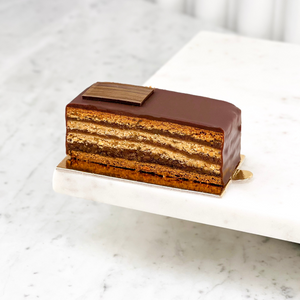 Named after our founder Emil Gerbeaud, our famous Gerbeaud slice is still made according to the original recipe. Due to the homemade apricot jam and the chocolate glaze made from high-quality French chocolate Gerbeaud cake achieved worldwide success. We put homemade apricot jam and carefully selected ground walnuts between the layers of yeast shortcrust pastry.
Each bite guarantees the usual excellent quality and nostalgic moments, also available as whole cake in our offer!
Have a taste of your classical favourites in the Gerbeaud Classic cake selection!
INGREDIENTS


butter, eggs, flour, yeast, finely ground nuts, homemade apricot jam, dark chocolate, powdered sugar, Bacardi rum
*May contain traces of almonds and hazelnuts.