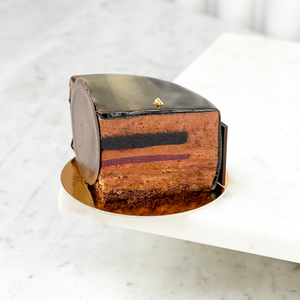 On the occasion of our 160th birthday, we made the Gerbeaud 160 cake, for which we use Cacao Barry Or Noir 1858 - 71.9% cocoa content - dark chocolate made exclusively for us, according to our taste
The base of the cake is a cocoa butter sponge, on which a dark chocolate mousse is layered with blood peach jelly. The dessert is topped with salted pecan nuts praline, creamy walnut and crowned with dark chocolate glaze.
The Gerbeaud 160 cake slice is an absolute favourite among our guests. It makes a great gift as a four-slice cake, packaged in a gift box. If you're in the mood for more sweet treats, you can also try our Blackberry-Chocolate Éclair as part of the Grand Gerbeaud cake selection!
INGREDIENTS


caramel, dark chocolate, green walnut biscuit, cocoa sponge cake, pecans, peach jelly, egg, flour